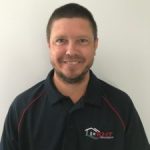 Karl Howard-Taylor
From the initial meeting with clients to project completion, Karl is hands on throughout the entire process and liaises with clients every step of the way. He doesn't believe in the cookie cutter approach!
Karl listens to what his clients want, makes helpful suggestions in the planning stage and follows through with their wishes.
We all have financial constraints which determine the extent of our project…. no problem to Karl…. he will happily work with you to create your dream whilst working within your budget.
Karl's unique and extensive background combines both the carpentry and cabinetmaking trades, enabling him to provide an all-inclusive service to his valued clients.
With 20+ years experience in the industry, Karl brings to the table quality workmanship, professional expertise and invaluable trade advisory service. Even sub-trades are personally supervised by Karl to ensure total client satisfaction.
KHT Renovations observe Australian Standards and Queensland Building Codes and only use high quality materials on all of our projects.